ELIZABETH – CRYSTAL EARRINGS INSPIRED BY VENICE
Welcome to the world of Venetian splendour, where art meets fashion. In our workshop, we have captured the exquisite heritage of the wonderful city of Venice to create this pair of crystal earrings that transcend the simple accessory to become wearable works of art.
ELIZABETH is infused with the timeless elegance and artistic refinement of Venice. From details inspired by Venetian masks to delicate the patterns, each element tells the story of a love affair between traditional craftsmanship and contemporary fashion.
The ELIZABETH crystal earrings captivate the light, creating a play of reflections that evokes the city's famous carnival. Each Swarovski crystal is carefully chosen for its exceptional clarity, adding a touch of luxury to your style.
The Venetian aesthetic is not just about appearance, but also about comfort. ELIZABETH earrings are designed to be light and comfortable to wear, allowing you to feel as good as you look.
Whether it is for a formal evening, a romantic escapade or a day at the office, these crystal earrings are perfect for any occasion. They add a sophisticated touch to your outfit, highlighting your natural charm and unique style.
Let yourself be seduced by the magic of Venice and its multicoloured crystals!
TECHNICAL DETAILS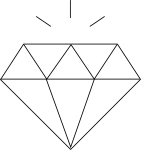 Made with top quality materials