BELLATRIX EARRINGS
Dive into mystery and seduction with our Bellatrix-inspired earrings, a tribute to the dark and fascinating icon of magic. These vintage-style earrings captivate with their mystical aura, recalling the daring spirit of the legendary witch.
BELLATRIX earrings embody the enigmatic, gothic aesthetic that made Bellatrix Lestrange such a memorable character. This pair of earrings is adorned with subtle details, evoking the darker side of magic.
Silver ornaments, pointed stones and intricate designs give these earrings a touch of black magic, perfect for those looking for a bold, unique style.
BELLATRIX earrings are so light to wear that they seem to be the fruit of magic itself. Wear them to add a touch of excitement to your everyday life or to shine at a special event.
This piece of jewellery is not just an accessory, it's also a statement. Wear it to express your passion for the magical world or to embody the confidence and boldness of Bellatrix herself. These earrings will capture everyone's attention, while recalling the intrigue and mystery of the magic world.
Treat yourself to a piece of magical darkness with our Bellatrix-inspired earrings, and let your witchy side express itself with bold elegance. It's a tribute to an iconic figure from the world of magic, sure to spark conversations and evoke magic and mystery wherever you go.
Immerse yourself in the enchantment of these unique earrings and let yourself be seduced by the enchanting darkness that surrounds them.
TECHNICAL DETAILS
Swarovski pearls, crystals and French-made soutache
Dimensions of the earrings: 8 x 3.5 cm
Back side finished with ultrasuede
Customizable colors (form below)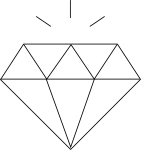 Made with top quality materials