LYNN – MINIMALIST-INSPIRED PEACOCK BROOCH:
This minimalist peacock brooch embodies exceptional elegance with its sophisticated design and profound symbolism.
Peacocks are renowned for their beauty and grace. Their colourful, lush feathers have inspired many artists and craftspeople. This peacock brooch captures that natural majesty, creating a look that evokes elegance and refinement.
Peacocks carry a powerful symbolic meaning, associated with beauty, love, prosperity and immortality in many cultures. Wearing peacock jewellery can be a way of connecting with these deeper meanings and expressing your own sense of elegance.
This peacock brooch is designed with great attention to detail. The peacock's feathers and the graceful curves of its body are reproduced from a minimalist, clean angle that dazzles with its finesse. This minimalist version, with its three-feather tail finished in sparkling crystals, breathes new life into the more imposing peacock-shaped jewellery.
This jewellery is unique and its colours can be personalised, allowing wearers to reflect their own style and elegance.
A peacock jewel represents elegance through its majestic aesthetic, its subtle details, its rich symbolism, its choice of quality materials, its versatility and the possibility of expressing one's own style and elegance. It's an exceptional way to add a touch of refinement to any outfit and capture the essence of beauty and grace.
TECHNICAL DETAILS
Brooch embroidered with haute couture techniques
Swarovski crystals and French-made soutache
Length of the brooch: 11 cm
Back side finished with ultrasuede
Customizable colors (form below)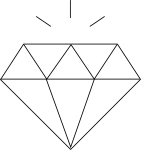 Made with top quality materials