MARLÈNE – FIREWORKS-INSPIRED BROOCH
Glimpses of glamour from the 20s. This fireworks brooch evokes a timeless elegance that transcends time. MARLÈNE nods to the past, to antique jewelry that transports us to other eras. Designed with a vintage aesthetic that transports us back to the 1920s, MARLÈNE embodies the sophistication and exquisite taste that characterized this iconic period.
Imagine fireworks frozen in time, capturing the magical moment when light dances in dazzling brilliance. The MARLÈNE brooch combines the aesthetics of the Roaring Twenties with modern elements to create a wearable work of art that evokes the vivacity and joy of this revolutionary era.
MARLÈNE is more than just a fashion accessory, it's a gateway to an era of celebration, jazz and incomparable style. This vintage-inspired creation is a treasure of fashion history that will instantly transport you back to the golden age of elegance. Inspired by the timeless beauty and refinement of the Roaring Twenties, this brooch is a true work of art to be worn with pride.
The MARLÈNE brooch is much more than a simple ornament; it's a true symbol of elegance that transcends borders and eras. It is a timeless reminder of the quest for beauty and grace.
MARLÈNE is not only a tribute to the 1920s era, but also a way to add a touch of vintage to your personal style. It blends perfectly with contemporary outfits for a look that combines past and present, creating an elegant contrast.
Let yourself be surprised by this haute-couture creation, which will transport you to a world of beauty, refinement and sophistication.
TECHNICAL DETAILS
Brooch embroidered with Haute Couture techniques.
French pearls and soutache.
Brooch size: 5.5 x 3 cm.
Back side finished with ultrasuede.
It combines perfectly with the PAOLA earrings.
Customizable colors (form below).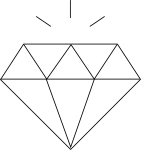 Made with top quality materials